Welcome to
Imperial School of Business and Science
Imperial School of Business and Science (ISBS), a 100% citizen owned Private Tertiary Institute located in Botswana, offers a wide range of BQA Accredited Management, Science and Accounting courses. Over the past fifteen years, it has consistently provided an affordable and quality education to people of all walks of life, with exciting career opportunities to choose from, thus oiling the wheels of economic development in Botswana.

Department of Accounting and Finance

ISBS offers a variety of short courses, catering for various organisations in both the private and public sector as ISBS is a 100% citizen owned Private Tertiary Institute. These are two to three days corporate trainings. All ISBS short courses are BQA accredited and are taught by BQA accredited and experienced trainers. ISBS is also registered with Public Procurement and Asset Disposal Board (PPADB) and furthermore, organisations can get reimbursement from Human Resource Development Council (HRDC) for these trainings. Some of the short courses we offer are: ABC's of Human Resource Accounting Software Administrative Management Skills All about Project Management Basic Banking Skills Change Management Communication Strategies Conflict Management Cultural Intelligence Customer Care Service Database - MS Access Effective Communication Skills Effective Sales Presentation Ethics at Workplace Finance for Non-Finance Managers Fire Prevention and Management Level 1 Fire Prevention and Management Level 2 Fire Prevention and Management Level 3 First Aid Level 1 First Aid Level 2 First Aid Level 3 Group and Teamwork in Organizations Health, Safety, Environment and Quality Management HIV/AIDS Counselling and Testing Inventory Management Leadership in Organizations Managing and Supervising Others Marketing and Sales Minutes Taking Skills Motivation at Workplace Public Relations in Organisations Presentation - MS PowerPoint Risk Management Safe Handling of Hazardous Materials Safe Waste Management Services Smart Recruiting Smart Selling Speaking Under Pressure Spreadsheet - MS Excel Stress Management Successful Time Management Understanding Employees and their Performance Word Processing - MS Word And many more.

Admissions New Students International Students Student Representative Council (SRC) Testimonials ISBS Alumni Student Portal
Admission
At ISBS you will join a diverse and energized academic community.
Latest News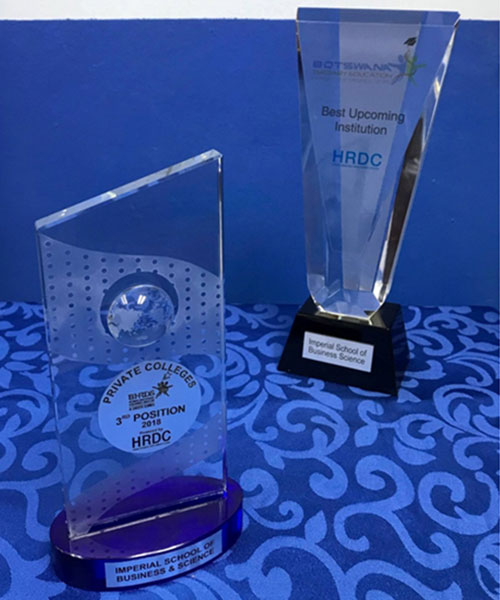 02 April,2018
Imperial School of Business and Science (ISBS) scooped yet another prize and was given the status of "Top 3 Best Private Colleges" by Human Resource Development Council (HRDC) at the recently held 2018 Botswana Human Resource Development Skills Fair and Career Clinic which took place at Boipuso Hall, in Gaborone. It is one thing to be a nominee, another to be a winner. The Institution's commitment to academic and professional excellence is amazing.
The journey of ISBS started in 2003, and through operational excellence, standards and team-work, ISBS embraced their first award from HRDC for being the "Best Upcoming Institution" on the 27th of March 2015.
The strategic aspects of ISBS communicated what needed to be done. On the 27th of February 2016, ISBS celebrated and held the graduation ceremony of 269 students. Subsequent to the graduation, ISBS adopted Modipane Primary School through its Corporate Social Responsibility initiative.
In 2017, ISBS was amongst the 1st 3 institutions to be accredited and registered by Botswana Qualifications Authority (BQA) under the new legislation. In no time, ISBS bagged another prestigious award at the 2018 HRDC Fair, this time in the Best Private College category.
Thinking of getting a degree, diploma or certificate qualification, think ISBS. Thinking of getting quality education, think ISBS. For ISBS is committed to being the preferred educational institution for life-long learning partnerships through achieving service and academic excellence for the benefit of all their stakeholders.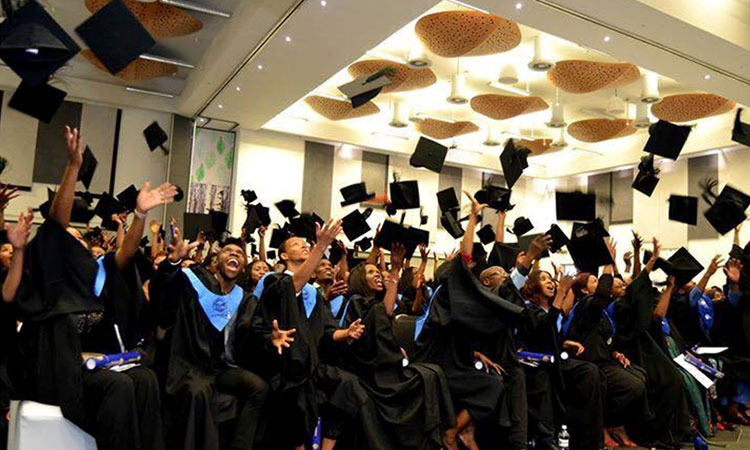 17 September,2018
Today, the Imperial School of Business and Science (ISBS) marked another milestone in its journey to be a centre of educational excellence in Botswana. The graduation ceremony at Travelodge saw a total of 404 students graduate from different programmes of study offered by the school. The Chief Executive Officer of Botswana Institute of Chartered Accountants (BICA), Ms. Verily Molatedi, graced the ISBS's annual graduation ceremony, along with the Managing Director of BancABC Mr Kgotso Bannalotlhe, representatives of BQA and HRDC, and heads of the industry.
During the glittering ceremony, ISBS also celebrated its unique recognition having being named amongst the top three private tertiary institutions in Botswana by HRDC and one of the first to be accredited in the new BQA system.
The graduates received Degrees, Diplomas and Certificates from range of globally recognised programmes such as AAT, Business Management, Finance and Banking, Human Resource Management, Marketing, Advertising and Public Relations Management, Marketing Management and Travel, Tourism and Hospitality Management.
Giving an interview at the graduation, the Director, Mr. Sharma emphasized that ISBS graduates have a unique professional identity and a set of values and beliefs that will allow them to continue their quest for lifelong learning and distinguish themselves in their chosen paths as the faculties that were offered are globally recognised.
"Previously we have had many students completing certificates and diploma programmes but this is the first batch to have completed Degree programmes. Since 2003, when the tertiary school was established, we have strived to offer quality education in the country. Graduating annually, young professionals were imparted with the knowledge and skills that are required by the regional and global job market," said Mr. Sharma.
By choosing ISBS you are guaranteed world-class elite education as ISBS was given the status of the top three private tertiary institutions in Botswana by HRDC. In these tough economic times, education is the strongest weapon against challenging global circumstances," said Mr. Sharma.
For her part, Ms. Verily Molatedi encouraged graduates to take advantage of the monetary solutions that entities such as LEA, CEDA and MYSC are offering aspiring entrepreneurs as to drive a diversified economy.
"What you achieved today is a strong accomplishment and it has to be celebrated. I urge that the levels of commitment in achieving your tertiary qualifications should not be forgotten. You will need that zeal as you progress in your career and as you accumulate more career assets for your employability and market value. I urge you that whatever you find your hand to do, do it with all your heart! You need to do something productive from here," said Ms. Verily Molatedi.
"Employability is about making sure that you diversify your skill set and experience to be relevant not just to one employer but to the industry at large. The battle to enquire knowledge is the drive to a knowledge economy. This is the key to you being enablers in tomorrow's economy. Let's not just settle for this but aim higher," she concluded.
Events
Currently No Upcomming Event Available
Courses
ISBS offers a broad spectrum of courses, virtually catering to every educational need, from Degrees, Diplomas to Certificates and Corporate Trainings. ISBS also caters for full-time and part-time studies.